LED Lighting
Retrieve more from a LED with Drivers from PRE.
The possibilities with LED lighting are almost endless, to say at least dynamic. Light that adapts to presence, ambient light or for example light that varies in color. To get the maximum from LED Lighting, good power supplies and drivers are required.

Only with the correct power supply and driver will a LED lamp achieve optimum efficiency:
Low power consumption
Long life time
Functionality which is not feasible with traditional lighting

PRE has long time experience with development and production of power supply/driver combination. We offer companies that supply LED Lighting [Fixtures] the ability to have a high quality End-product in which all the benefits of LED come to it's maximal rights.
What does PRE offer?
The market for LED's consists out of two main segments. The professional market in which the larger projects and complete solutions for offices, objects or public institutes are offered. Next to that the consumer market were "Retrofits" are strongly required.

PRE has developed, among others, solutions for Retrofit Condescend [Glow wire] Bulb drivers for the most popular markets such as E27, E14 and the TL shapes. Although it is not necessary at the lower power rating of Led lamps, we can also apply high Power Factor Correction into a design. Additional it is possible to incorporate Dim-functionality into the driver.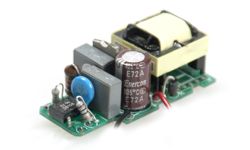 Next to solutions purely for LED is PRE also active in the range of individually driving multiple LED's. This technology sets the basics for supporting RGB, RGBA or RGBW color merging in Retrofit Lamps. The technology can reduce the required amount of Phosphor in a LED-lamp, with positive influences on the efficiency, life time and environmental effects. PRE has received an OP-South subsidy to further develop this topology, which now also has been patented. PRE has also been involved in the development of larger LED installations for which converters of 500Watt or even few kW can be used. For these type of tailor made solutions the maximal functionality is used. By this we offer the user remarkable features with regard to dynamic Lighting.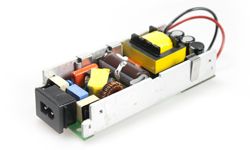 « Back