Industrial Applications
Special projects, particular solutions.
The power of PRE lays in the ability to innovate. We are Power Developers and avoid no challenge within the range of Power Electronics. It is there for not strange that precisely those companies that produce special products co-operate with PRE.

These special products require often solutions which are far from standard

PRE gladly develops these solutions. Pragmatic and in within short time line. Simplicity, reliability and acceptable costs are herewith the directives. The first priority is to achieve a working concept, after which we further look at features such as communication, energy- and space-saving. Our innovation power as example, already brought us to open Sea, in the Desert and into the swimming pool. Special projects with particular solutions.

What does PRE offer?
Frequently PRE receives questions from manufactures that work with traditional transformers. The most common question is that of energy saving. The basics of classic transformers compared to high frequency transformers are the low efficiency. Besides that we can easily add intelligence and/or communication to a HF-supply in the design stage. A few examples:

The Driving of a High Pressure Gas dis-charge Lam (UV)
Ultra Violet light is a method to disinfect water without adding substances like Chloride. Installations with these kind of lamps often operate 24 hours a day, 7 days a week. The need of UV-Light not continuous but strongly dependent on the amount of polluted water. There for PRE has developed a power supply, in the range of several kW, that specifically is suited to drive these kind of lamps. There are features included to dim the lamps when les power is required and to easily start the lamps. The power supply regulates the current so that the life time of the lamps is extended. As result of this, the total cost of ownership also decreases. Already we have a lot of field experience incorporated into these products, including the UL certifications.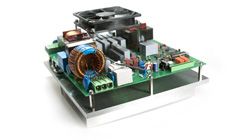 Anti-Corrosion system for Off-Shore
At off-shore use, Steal often is exposed to high corrosion circumstances. Besides using special coatings also Anode-Cathode systems are often used with the lower metal sorts such as Lead and Zinc. But the most advanced systems are based on using a continuous current through the poles which increases the efficiency. PRE has developed a system to create a very high current during heavy [weather] conditions.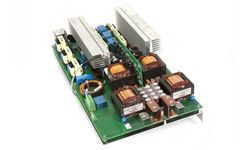 Generating Chloride out of kitchen Salt
The transportation of Chlorides is a hazardous event which, with good cause, requires very strict regulations. For some applications, such as swimming pools, this is difficult to realize. One of our customers has solved this by using the principles of cells that transfer kitchen Salt, regulated, in concentrated Chloride with which the swimming pool can be dis-infected. The cells do require a constant current to initialize this process. The step towards High Frequent power supplies offered a significant cost saving against traditional Transformers. In addition there were advantages gained in energy use, weight and size. PRE also has a power supply available usable for similar situations under the name of Universal 1 Phase 3 kW Power Supply.
Here a download to the data sheets with specifications. Download here the datasheet for the Universal 3 phase 5 kW Power Supply.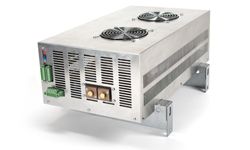 « Back