Claire Weiller starts as VP of Business development at PRE power developers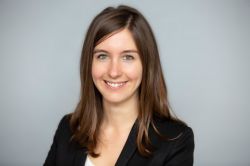 As part of rapid growth plans for the coming years, PRE power developers announces the addition of Claire Weiller to the team as VP of Business development. Claire is an EV grid integration / V2G specialist and is looking forward to working on establishing PRE Power Developers' position as a sustainable and high-quality DC charging solutions provider.
Ambitious goals
Claire Weiller started at PRE as VP business development in July 2020. Erik van Beusekom (CCO): "Our ambition is to triple the company's revenue within three years. Claire's experience and specialist knowledge within the EV infrastructure sector will help our clients and bring momentum to this growth phase".
Claire: "PRE has the capabilities to serve a very large, growing market in EV charging. The existing products are versatile and modular, meaning they scale well from single phase wallbox (V2G) chargers all the way to ultra-rapid highway chargers. As the EV industry is still early-stage, a combination of solutions for charging are required: home, workplace, public and motorway charging. PRE can offer power module and charger products for the full range and develop tailored solutions upon customer requests.
The growth capital invested recently by Dutch fund Waterland Private Equity Investments validates this ambition and introduces a complementary partnership with Heliox, the Dutch charger manufacturer for public transport."
In the EV business since 2009
Claire has been involved in EVs since 2009. Since her PhD in Engineering Management at Cambridge University, she enjoys working in tech-dominated environments with a focus on sustainable technologies.
Claire: "After working in infrastructure and renewable energy finance in London, I was delighted when the opportunity came up in 2016 to work in the type of innovative EV software company I had been writing about during my PhD. Now it is time for the next step: PRE power developers, where I am excited to work on a high-growth strategy for EV charging products."
Focus markets
Claire joins the team at a time where PRE Power Developers expands its focus geographically. Claire: "I will focus on the UK and France as key markets, with potential to extend to the US and elsewhere in Europe. The UK is the most advanced market in V2G and I am based in London so it is a natural place to start. My role will involve communication and external engagement with customers and partners, as well as the analytical approach I bring to all new problems to develop sustainable business cases."
Contact details:
Claire Weiller
VP Business development
Email: c.weiller@pr-electronics.nl
Mobile phone: +44 79 80 20 6166
« Terug